Our Team
Meet Our Professionals
Here at Beautilase MedSpa, we take great pride in the services we offer. We understand that our services have long-lasting effects on our clients and we are proud of the work we do. Our team is dedicated to finding a treatment plan specific to your needs and ensuring that you are satisfied with our services.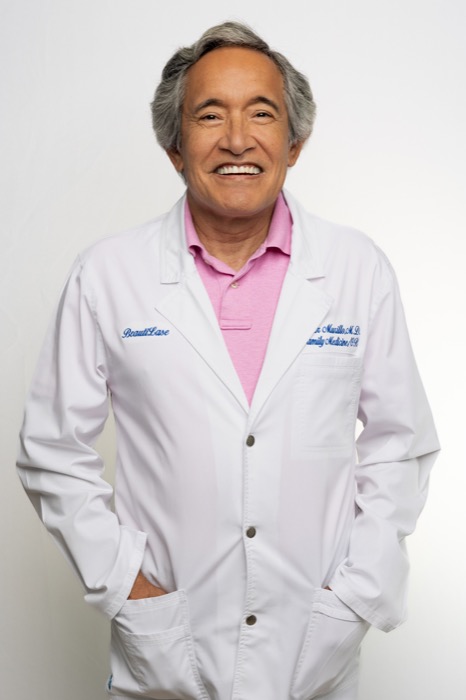 Javier Murillo
Medical Director/Owner
Dr. Murillo has been in Family Practice for more than 40 years. After graduating from the Stanford School of Medicine, he journeyed back to his roots in Texas where he established his own private practice. As aesthetic medicine gained momentum in the RGV, he became interested in Laser Hair Removal, creating the origin story of Beautilase Med Spa. Along with his late wife, they slowly began creating the Med Spa centering around the objective of providing quality aesthetic treatments from qualified medical providers. With the introduction of injectables, he was thrilled to welcome other medical providers to provide anti-aging techniques to his patients. One of his go-to treatments is Microneedling because targets it wrinkles and scar tissue. And if you were to ask what skincare product he always has in his home? It would be the HA5 by Skinmedica since it gives him right amount of hydration along with anti-aging benefits.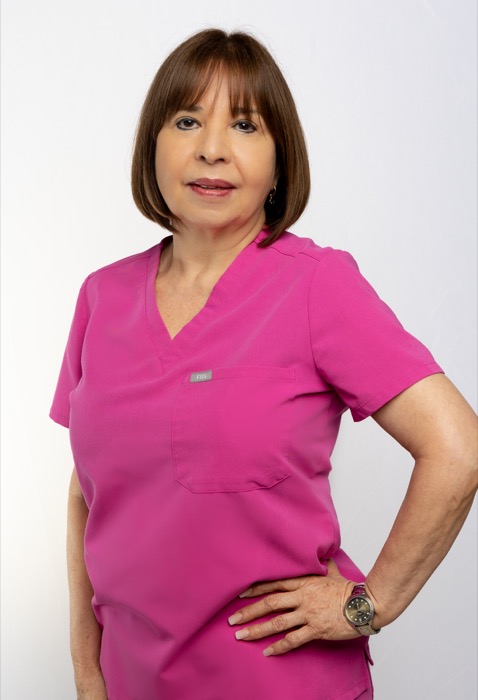 Lucy Dillard
CNA, Laser Technician
Qualified in performing Laser Hair Removal, Microdermabrasion, and facials, Lucy has been with us for over 20 years, and she has been there from the outset helping us grow and diversify in our procedures. Aside from that, she also assists with Juvéderm and Botox whenever necessary. Her favorite Beautilase services are Laser Hair Removal / Microdermabrasion, facials, and Microneedling. Injectables are her go-to in reaching her own aesthetic goals and is always willing to discuss her results with any potential client. As our Laser Technician, she's adamant on proper sunscreen usage and will ensure our clients choose the SPF that is right for them. The other skincare product she can personally attest to is – iS Clinical's Pro-Heal Serum. With its antioxidant-rich serum – it can treat acne, rosacea and even insect bites!
Elizabeth Huerta
Family Nurse Practitioner (FNP-BC), Licensed Injector
Delivering the highest standard of care is something you can always expect from our licensed injector Elizabeth or "Liz". As a UTPA(UTRGV) graduate, she's been working in the medical field for the past 25 years. Whether working in our Family Practice managing chronic illnesses and Women's Health or in our Med Spa, Liz ensures each patient leaves their appointments satisfied with their care. She's trained in Botox, Juvéderm, PDO threads and Kybella. She loves to utilizing a combination of treatments to help her clients achieve the desired look they envisioned when scheduling their aesthetic procedure with us. Her skilled technique will keep you feeling comfortable throughout your whole procedure. "A Dry cell is a dead cell," as Liz always says, so to ensure the health of her skin she relies on iS Clinical's SHEALD Recovery Balm especially after a procedure such as Microneedling.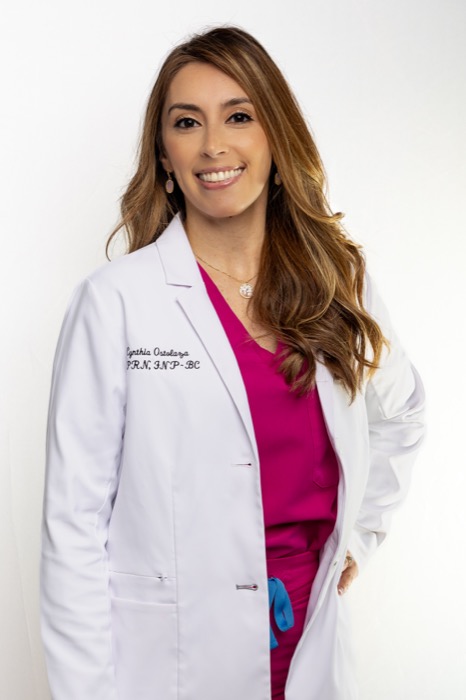 Cynthia Ostolaza
Family Nurse Practitioner (FNP-BC), Licensed Master Injector
Patient quality care has been a priority objective for Cynthia Ostolaza for the past 20 years while she's been working in the medical field. As a master injector, the Florida State and Georgetown University graduate carries that objective to the highest standard not only to each of her clients at Beautilase Med Spa, but also to patients in our Family Practice managing Pediatric and Adult chronic illnesses. Excelling in procedures such as Botox, Juvéderm, PDO threads and Kybella, Cynthia loves helping her clients reach their aesthetic goals. Unsure of which procedure to choose from? Discuss the issue with Cynthia in a consultation and she can help you figure out which path is best for you. Continuing education and integrating innovative techniques she learns from trainings are some of the ways Cynthia invests in her skills as an injector to provide the best treatment for her clients. The game-changing results she personally yields from the combination of iS Clinical's Super Serum and Youth Intensive Cream is the one-two punch her skin didn't know it was missing.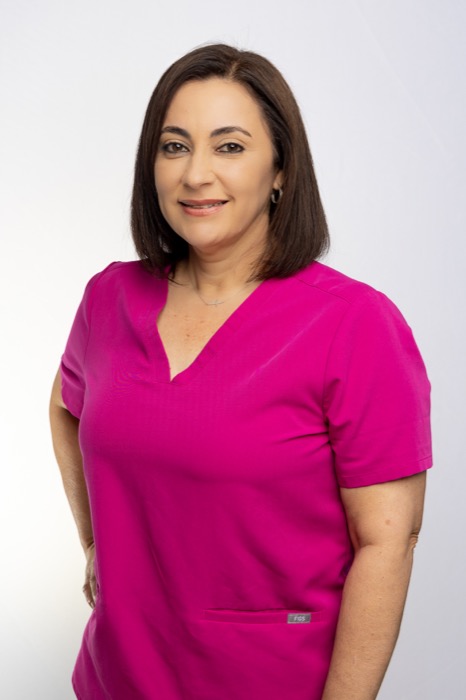 With over 20 years of experience in the medical field, Belinda's favorite services at Beautilase MedSpa consist of Botox, Facials, and Microneedling. You can find her assisting with Botox and Juvéderm as well as with immunizations, vitals, phlebotomy, EKG, and other services around the medical spa. Nervous about getting Botox or fillers done for the first time? Belinda is always ready to ensure each client feels comfortable and relaxed during any appointment.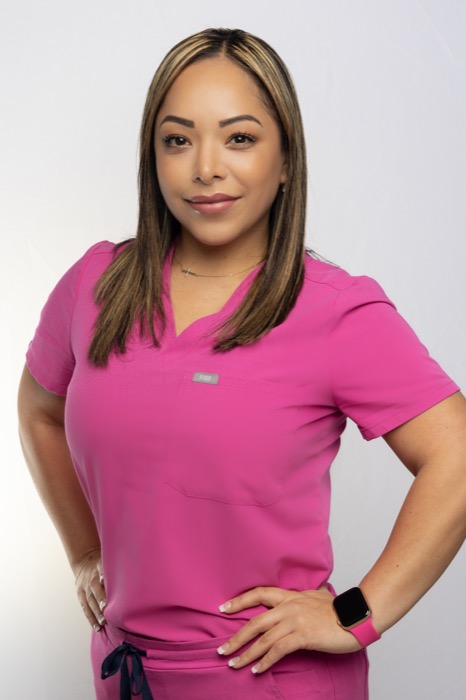 Pamela Alvarez
Medical Assistant
Our staff Tik Tok director, producer, editor, and occasional star – Pamela has been instrumental in ensuring what makes Beautilase Med Spa special can been accessible across our social media platforms. As a medical assistant, she's had experience assisting with Plastic Surgery, Family Medicine and now our Med Spa. Her favorite procedure to perform is the diamond glow. She loves showing the patients their "jar" after each session, which contains everything that was just extracted from their pores. What's left behind? Dewy skin that is hydrated and glowing! Since hydrated skin is personal skincare goal of Pamela's, iS Clinical's hydra-cool is what she uses to achieve that goal She says her skin is left feeling refreshed after each application.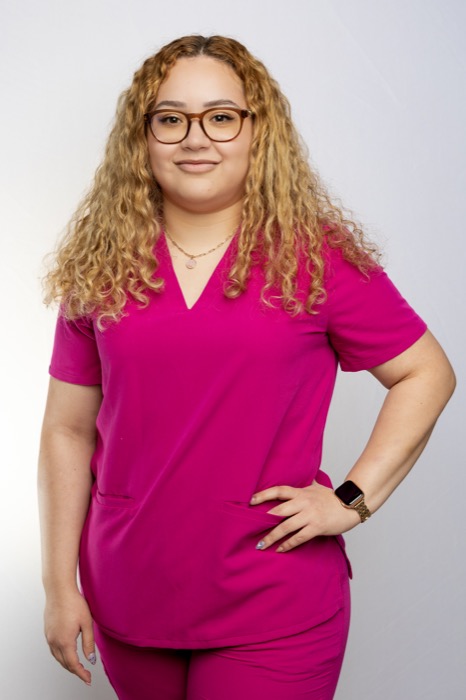 Nicole Hinojosa
Licensed Aesthetician
We would be remiss without first thanking Nicole on behalf of Beautilase Med Spa, for always ensuring our Brows and Lashes are always on point. As a licensed Aesthetician, she's trained in some of our favorite services such as: Facials, Chemical Peels, Diamond Glow, Microneedling, Microblading, Brow Lamination and Lash/Lift Tint. Nicole's fresh take on various spa services has helped Beautilase Med Spa grow in their aesthetic procedures. With her instinctive attention to details, she ensures every service she completes leaves each client ecstatic with their results. The Active Peel System by iS Clinical is a favorite of Nicole's. The simple two step system is designed to resurface and polish the skin while providing hydration, rejuvenation, and antioxidant protection.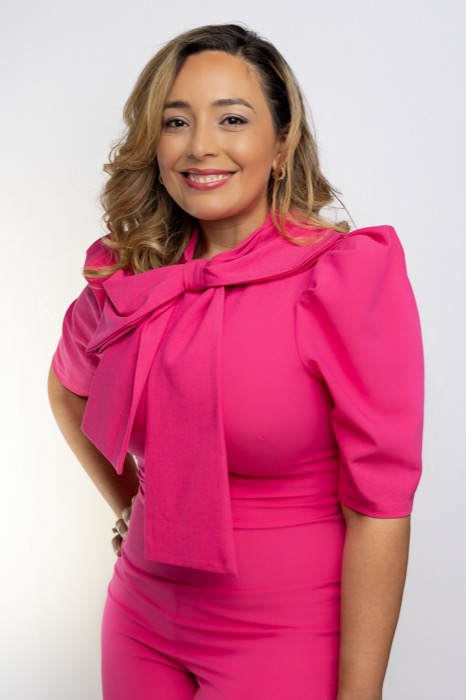 Kayla Tezcucano
Office Manager
Expanding the services offered at Beautilase Med Spa has been Kayla's focus over the past decade as Office Manager. She maintains a high standard for the skincare products and services offered here at the Med Spa, and always ensures each staff member continues to receive training to hone their techniques as master injectors and technicians. Her daily skincare routine is never with out iS Clinical's Active Serum, which targets wrinkles, acne, and hyperpigmentation. Her feelings toward this product could be compared to her late Abuelita's feelings towards Vicks – it effectively treats everything!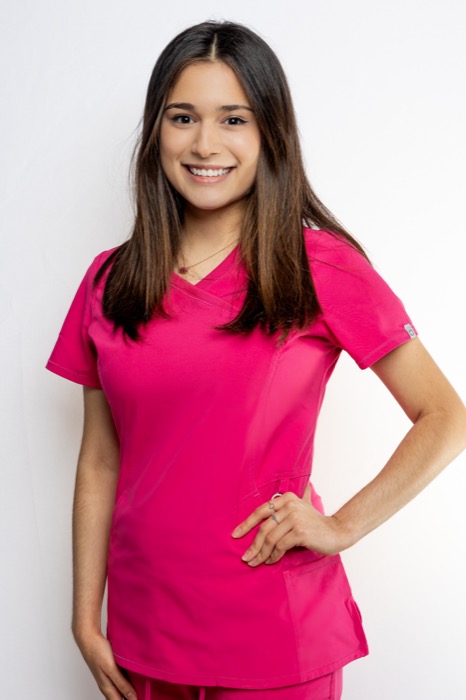 Jacqueline Gonzalez
Front Office Administrator
The newest member to our Beautilase team is also the welcoming smile ready to greet you as you begin your aesthetic procedure. With an Associates in Graphic Design, we are excited for her to contribute to our ever-growing social media content. She was a quick fan of iS Clinical's cleansing complex with his ability to remove makeup and cleanse the skin in one step. Welcome to the team Jackie!
You're In Good Hands
Think of Beautilase MedSpa as an extension of your home – your comfort and satisfaction is our priority. Request a consultation with one of our injectors so we can get started on your journey to better looking skin today!
Book Your Appointment